Good find.
There are a couple things I really like about this page but the best thing is all the quotes in one place…not a lot of crap in-between…Lynn Osborn has taken some serious time to put this up… nice! thank you, Lynn, you're a star!
I was working with some carbon or more specifically very finely ground 99.97% pure graphite and noticed something that was sticking to everything, floating above the liquid. What is this doing in here? But then again, why wouldn't this stuff be in carbon, like everything else?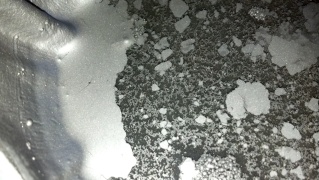 …are we thinking like the philosophers or not? Is this stuff in everything or no?
So, here I had destroyed some of the body with some harsh chemicals, so it shines beautifully but is still not opened and clear. Mineral acids don't open anything to any decent degree. I was using 5 parts distilled rainwater with 3 parts 28% HCL as my acid with one part 32% peroxide adding fire, making a menstrum to purge 4.5 parts of graphite (for something else I was working on). A royal water that will dissolve gold and all precious metal. After a few, this stuff starts to surface, lighter than water looking similar to quicksilver. For 48 hours I recharged the peroxide as it swam in boiling acid peroxide remaining unscathed...a bright shiny metallic powder.
I see how soot from burning wood, as fine as possible "lampblack" contains our philosophical earth…so it does make sense that it could be made from wood "burned up" as really super fine soot/smoke ash. Smoldering oak or willow collected high on glass could be easily scraped with a razor blade and collected. I have a big bag of pure oak wood charcoal chunks of wood which would be good starting material. Hobby also sells lampblack carbon but doesn't list what the starting material is. They also sell willow charcoal.
Question is, can it be used as is? Or do we need to obtain our philosophical earth first? I think we try it "as is" because otherwise it would be a huge pain and I want to avoid that…
We take our ground soot, slowly & gently calcine it to extra dryness and put it in an air tight container. Or calcine right before we put it out in the night air on the full moon to hydrate... After a few days or complete hydration add our best distilled dew or rainwater and let it putrefy, to make our vinegar, which is separated, refined down and evaporated into our starting green gum, loaded with life. That would be the optimal way to do it.
The dry way could be tried but would probably be best with only philo earth. You could still take our ground soot, slowly & gently calcine & put it out in the night air in moonlight to load it and animate the mercury. Distill out water and put the vinegar aside and a fresh receiver for the white fumes which should condense into a yellow liquid with red drops (or brown if too much air). Wine spirit to extract oil left in the earth. Or vinegar rectified on the earth several times to extract the salt and oils. Then filtered and distilled to separate.
What do you say alex, want to give it a go?
Sounds like this dragon doesn't bite…